The pipes in your home are designed to last a long time. But, like everything else, their life span is limited and they will eventually start to break down. Handling these pipes is not an easy job, which is why you need the experts at DYZ Plumbing. From repairing and replacing to installing new pipes, we do it all!
At DYZ Plumbing, we provide local plumbing and drain cleaning services for Maryland homeowners. We are locally owned and operated, and we answer the phone 24/7. When you call us, we bring 19 years of quality experience in home piping services.
It is important to go with experts you can trust for home re-piping services. Call DYZ Plumbing at 443-929-1020.
Do your home's water line pipes need to be replaced? DYZ is offering a discount on water line replacement services! See our coupon below then click to contact our team of expert plumbers to schedule an appointment today. Also, be sure to check out or other current service coupons and promotions!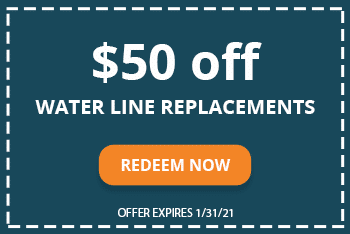 How Is Re-Piping Done?
Re-piping your home may seem like an intimidating task. The process can be broken down into five steps to make the process as easy as possible.
Learning your schedule: The experts at DYZ Plumbing understand that family time and time to yourself are important. Home re-piping can be a somewhat of an intrusive job. Between school and work, we try to work around your schedule. We will communicate with you and your family to figure out the best time to stop by.
Preparing to re-pipe: Your home becomes a low-level construction site when it comes time to re-pipe your home. We do our best to keep your furniture and house clean, and will cover the surfaces with drop cloths. Before we leave your home for the day, we clean up our mess so you and your family can spend time in a home that doesn't look like a construction site.
Installing the new piping system: After we create a safe place to work, we begin installing a completely new piping system in your home. We install the new system while the old system is still running and, on the final day, we change over to the new system.
Changeover: This is the longest step of the re-piping process. During the changeover we turn off the old system, unplug all tie-ins from the water service line to your home's old pipes, and tie in the new system. We want you to be as comfortable as possible, and the changeover could last more than a day. We will work with you to transfer the most important faculties first so that your family can still have access to water to drink, cook, wash clothes and dishes, and bathe in.
Clean-Up: After we have changed the water line over to the new system, we clean up any mess that may be left over from the re-piping process. Our goal is to leave your home nicer than we found it, inside and out.
When Is Re-Piping Necessary?
There are a few signs to let you know that re-piping is necessary, including:
Brown-tinted water coming out of your sink and tub faucets
Water coming out of sink and tub faucets at a lower pressure than usual
Rust spots or water marks on your ceiling
These are signs that your home piping system has rusted all the way through or there is a faulty connection in your home. With a faulty connection causing low water pressure or a leak, we can most likely make repairs. However, we will suggest re-piping when it's absolutely necessary.
Schedule Re-Piping in Your Home
At DYZ Plumbing, we are committed to providing the highest-quality service to preserve the value and integrity of your Maryland home. We offer same-day services and 24/7 emergency service, and we are family owned and operated. Our journeyman and Master Plumber certification put us above the rest. We are equipped with the expertise and tools to get the job done right the first time and as quickly as possible.
We provide the best plumbing solutions in the Severn, MD area and can provide the best home re-piping solution for you.
To get started, give our team a call at 443-929-1020 or contact us online for home re-piping services!