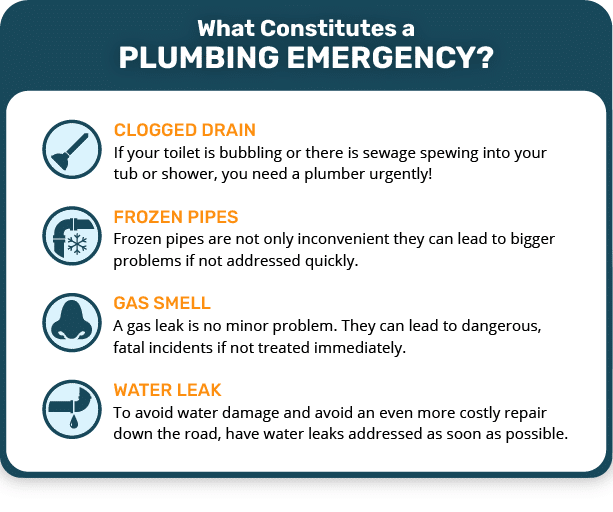 Plumbing problems can happen anytime, day or night, and although many plumbers in Maryland offer emergency service, it can be inconvenient to schedule repairs in the middle of the night or during a holiday, not to mention more expensive than a standard service call. While some repairs can be safely postponed until the next business day, others require immediate attention. By identifying which issues demand an emergency service call and which ones can wait, you may be able to save time and money.
Problems That Require Emergency Plumbing Services
Minor problems like dripping faucets or a clogged drain in a secondary bathroom can often wait until the next business day for repairs, sparing you the cost of an emergency service call. But plumbing problems that jeopardize your safety, endanger your health, or pose a risk of costly damage to your home or business should be addressed immediately. It is best to call a professional plumber right away for problems like:
Clogged drains – If you have a clogged toilet, tub, or sink drain and no secondary fixtures to use, it will be necessary to have it repaired right away.
Frozen pipes – If you have burst pipes, frozen pipes, or no water during sub-freezing temperatures, don't risk damage to your home or business. Call a professional as soon as possible.
Pipe leaks – Unless the leak is minor and the water can be contained, it is best to call a professional to avoid water damage, mold, and future structural problems.
Sewer clogs – If your main sewer line is clogged or backing up, it poses a serious threat to your health and must be addressed immediately.
Water heater failures – If your water heater is not functioning or the tank is leaking, repairs will be necessary as soon as possible.
Sump pump failures – If your sump pump fails during a storm or flooding, immediate repairs are necessary to avoid water damage, flooding, mold, and structural problems.
Washing machine leaks – If the drain or supply lines on your clothes washer are leaking, they can cause costly damage in a matter of minutes.
Dishwasher leaks – Leaking dishwashers can soak the walls, floors, and cabinetry nearby, leading to costly water damage.
Gas leaks – If you smell gas or have found a leaking gas line, it is essential that you exit the building and call local authorities immediately from a safe location.
If you have a plumbing emergency, shut off the water supply if you can, avoid using clogged drains, and call a qualified plumber right away. If you have a gas leak, have your utility company or emergency services shut off the gas supply, then call a professional plumber for repairs once the building is safe.
Who to Call for Repairs
If you are the owner of the home or business, you can call a qualified plumber of your choice for repairs. If you rent or lease the building, the landlord or property management firm will need to arrange repairs. Gas leaks may require assistance from the utility company or local authorities to complete repairs.
What Is Not Considered an Emergency
Many plumbing problems can wait for a more convenient time for repairs. These can include minor pipe leaks, drain clogs in a secondary bathroom, leaking faucets, minor water heater problems, or damaged fixtures. By waiting for regular business hours, you can often save money on the service call and repairs.
Call DYZ Plumbing for Emergency Plumbing Services in Anne Arundel County & Surrounding Communities
At DYZ Plumbing, we are here to help with all your residential or commercial plumbing needs. We have nearly two decades of professional experience, and we offer 24/7 emergency plumbing services throughout Annapolis, Anne Arundel County, Baltimore County, and the surrounding areas. We are fully licensed and insured, and we are equipped to handle everything from minor plumbing problems to major emergencies.
Call (443) 929-1020 today or contact us online to schedule plumbing services anywhere in Hanover, Severn, Odenton, or nearby communities.