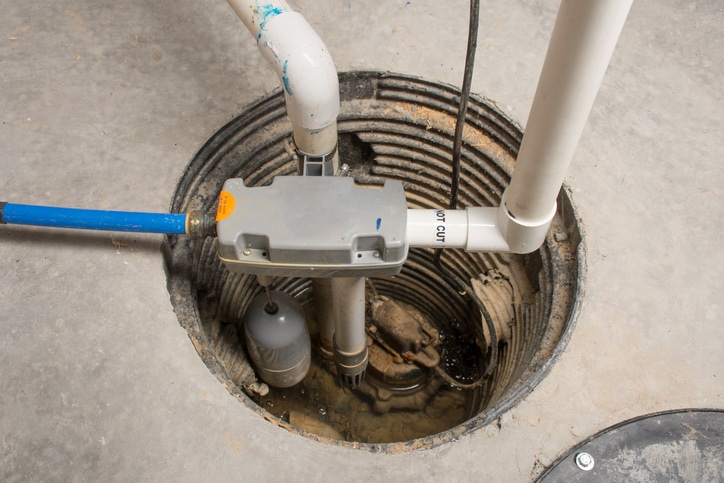 Houston Texas gets plenty of wet weather, from snow and ice in the winter to thunderstorms and hurricanes during the warmer months. For low-lying basements, inclement weather often means flooding, and if your sump pump is not working properly, it can mean costly damage to your home.
Whether you need a new sump pump, a replacement, or some service and repairs, you can count on our team at DYZ Plumbing for help. We offer sump pump services in Houston, Texas, and surrounding areas. With more than 19 years of plumbing experience, you can rely on us for prompt, professional, cost-effective services.
Need help with the sump pump in your Houston home? Call DYZ Plumbing today at 832-877-9600 or contact us online to speak with one of our experienced, licensed plumbers.
Our Sump Pump Services in Houston, Texas
Sump pumps are essential in homes with damp or wet basements, or those prone to seasonal flooding. They gather water at the lowest point in the basement, typically a purpose-built sump pump pit, and they pump it to the municipal sewer system or a safe point outdoors. To be effective, a sump pump must be reliable and turn on automatically when the water reaches a predetermined level.
If you are having problems with your sump pump, such as a failure to turn on, a clog, issues with the impeller, or leaks, talk to our team at DYZ Plumbing. We can recommend the most cost-effective solution to the problem, whether it is simple repairs or an all-new sump pump. We offer sump pump repairs and sump pump replacement throughout Houston, Texas,  and the surrounding areas, and we are available 24/7 for emergency service.
Call 832-877-9600 today or contact us online for help with all your most difficult sump pump problems.
When to Consider a Sump Pump Replacement
Sump pumps generally last about 10 years, though that can vary with the frequency of use, maintenance history, and initial quality. Here are a few signs that you are due for a new sump pump:
The pump fails to turn on or pump water
The motor sticks occasionally
The sump pump buzzes or hums
The float switch is faulty or does not work
The pump runs constantly
The pump cycles on and off too frequently
The pump shuts off intermittently
There is visible rust or damage
The impeller is broken
The pump trips its breaker or overheats the switch
The pump vibrates abnormally or makes strange sounds
To request a sump pump replacement quote in Houston, Texas, and the surrounding areas, contact our team today.
Schedule Sump Pump Services in Houston Texas
Keep your basement dry and your home protected with sump pump services from our team at DYZ Plumbing. We offer a full selection of home plumbing, drain, and sewer services, as well as water heater services, gas line services, and more. Plus, our expert plumbers are available 24/7 for all your emergency plumbing needs. As a locally owned company, we feature highly trained personnel, exceptional service, and great reviews from our customers and neighbors.
Exterior Water Line Leak
The client accidentally broke off their spigot on a New Year's morning.  We were able to repair this in no time, saving the client's home from water damage and a high water bill.
Call 832-877-9600 or contact us online to schedule sump pump services anywhere in Houston Texas and the surrounding areas.